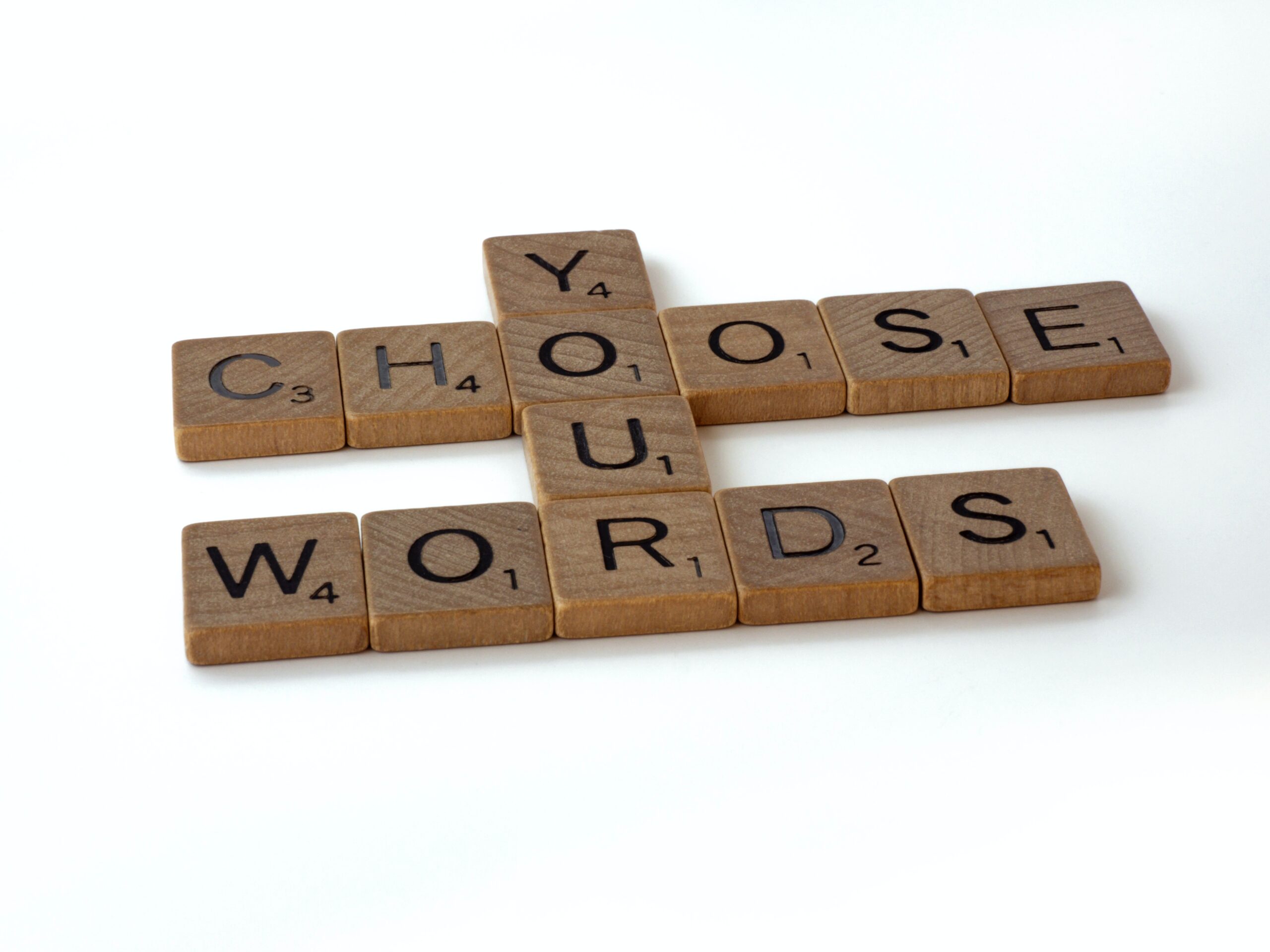 A word from the CEO
As a consultant, trainer, coach and training designer for The Hive, I see the impact we make every day, but it has often felt impossible to measure. I see the powerful insights that come from us working together and building diversity of insight, and sometimes even see the moment when a new realisation settles into the mind of our delegates. Earlier in my career, that has been the end of it. But 5 stars on a 'happy sheet' at the end of a workshop day has never been where the impact truly lies. The impact is in the outcomes of the actions that these leaders, salespeople and managers do differently as a result of this training. This report, and the research and impact evaluation work we have begun this year will go some way to helping us shine a light beyond the training day and keep us accountable to the bigger picture, because for us, that is what drives our commitment.
We are deeply motivated as a team by our shared goal to build a portfolio of change that earns us a seat on the world stage and a platform through which we can have a positive influence on the issues that will most affect future generations. If these sound like grand words, rest assured that these were argued, workshopped, shaped and honed by the very team who strive to attain this goal as the clearest articulation of that which motivates us most.
I have long been a believer that business can be a force for good in the world. Indeed, historically, it has been extraordinarily beneficial to our collective quality of life. But it has also been extraordinarily detrimental through our own shared shortsightedness. As mindless consumerism gives way to mindful consumerism, I will strive to lead this organisation to be mindful in who we empower through our work, and strive to make our tools and services the best the world has to offer.
2022 has been a significant first step forward for us. A giant leap for our own Hive kind. I am proud of the team, our collective of associate experts, our champions working within our clients, and what we have achieved together to get thus far. There is much to do, but together it can be done.
Andrew Tilling
CEO and founder of The Hive
The Hive Impact Report 2022
The Hive  – Who we are and what we do 
The Hive is a training consultancy that provides training, coaching and facilitation to enable leaders and their teams to drive change, create thriving working cultures and accelerate business results for organisations invested in positive impact.
We work with individuals, organisations and teams, supporting them through transformational change, informed by research and data, and grounded in robust and creative methods and practices.  Within individual businesses, we aim to empower leaders to adopt an attitude of courage through vulnerability and accountability in order to build trust and rapport amongst their teams. Our hope is that, in doing so, we can help organisations balance purpose, diversity and inclusion with high performance.
Our Vision: A world where every industry, business and role enables people to make the world a better place for future generations.
Our Mission: To help transform working cultures so that they can deliver results that make a positive impact internally and externally.
Our Goal: To build an award-winning portfolio of change that earns us a voice on the world stage which will help us to influence the issues affecting future generations.
Our Values:  Positive Impact, Excellence, Courage, Empathy.
We are a vibrant, compassionate, and diligent team of six full time employees who worked internationally and virtually. We work in partnership with a selection of handpicked external associate trainers, coaches and facilitators from all over the world. These partners are all highly skilled and experienced in challenging and unlocking potential in leaders, teams and individuals from a range of sectors, backgrounds and geographical locations.
Our commitment to making a positive impact is twofold. On one level, to achieve this, we work to enable and empower leaders to make positive changes internally, within their organisations (see section 1). On another level we want to influence the decisions businesses are making externally and help effect change on a global level. This is why, increasingly, we are working with businesses whose productivity contributes positively to social and environmental change or who want to find ways to improve their impact through their work with us and 2022 has seen substantial progress in that direction.
Businesses are currently dealing with immense uncertainty and growing complexity due to global challenges such as inflation and price volatility, geopolitical instability, talent scarcity, threats to public health, climate change, and trade regulations.
As a result, we find businesses and leaders are currently grappling with a number of issues including:
Increasingly complex stakeholder environments.
Toxic working cultures (e.g. blame culture).
Lack of alignment to vision/values/meaning/purpose.
Disconnection, loss of control and siloed working due to remote working and geographically diverse locations.
Dictatorial Leadership/Command & Control strategy.
Disengagement and apathy.
Burnout at all levels.
Poor leadership, leading to talent leaving or quiet/conscious quitting – 'people leave leaders not companies'.
Losing talent to competitors with perceivably better cultures.
Not only do our services help clients tackle these specific issues, but they often support a process of culture change, like we have seen in two of our largest programs in 2022 (see sections 1.2.1 and 1.2.4). Where needed, tackling culture change in turn ensures that the effects of our interventions are amplified and long lasting.
Finally, as a business, we want to be held accountable for our commitment to making the world a better place for future generations as outlined in our  Environment Social Governance (ESG) Strategy and our Materiality Assessment. For this reason, since January 2022 we have been gradually working towards becoming a certified B Corp – a company which meets high standards of social and environmental performance, transparency, and accountability according to criteria set by international not-for-profit network B Lab. This is an ongoing process which we kicked off by changing our Articles of Association to include mission-aligned language that provides a legal basis to allow directors to consider the interests of all stakeholders, not just shareholders, when making important decisions about the organisation.
Impact
For the purposes of this impact report, we see our impact as unfolding on four different levels which include:
Businesses – We choose to work with businesses that are aiming for positive impact externally as well as internally. We choose not to work for businesses who we feel make a negative impact on the planet, the economy or to individuals.
Staff & Workplace – Within The Hive, we nurture a healthy, happy working culture and consistently seek collaborative and creative approaches to generating solutions. We strive to implement empathy, inclusion and diversity wherever possible in the work that we do.
Community – We endeavour to support charities and organisations who make a positive impact. Since we are a growing SME, this varies based on our financial capability. In 2022 this involved supporting a family of Ukrainian refugees to relocate to the UK; funding Casa Ioana, a women's refuge and rehabilitation centre based in Romania; and supporting a martial arts community project in Parma, Italy.
Environment – We strive to contribute to addressing climate change. Our carbon footprint is relatively small, as we all work remotely and therefore travel is only necessary when delivering face to face training. However, we are currently beginning to put tools in place to monitor this since, as our capacity grows, our potential footprint will too. As part of our appraisal process we also ask our teams to make a commitment to recycling and reduced energy consumption.
In the next sections of this report we delve deeper into The Hive's impact in relation to each of these four levels.
1 – Businesses
While we are acutely aware that the problems we help businesses tackle affect many organisations, our commitment to our values and purpose as well as to maximising our impact has led us to become increasingly discerning about the prospective clients we choose to engage with.  Over the course of 2022 we have more clearly defined what our ideal client organisation looks like.
In broad terms, it is a purpose-led business explicitly or implicitly invested in improving the triple bottom line of people, planet and profit. Working business to business, it is positioned to make a positive impact in the world through its product or service offering and its people.  It also has the resources and the appetite to invest annually in culture and people development.  Our walk away point when evaluating the fit of a potential client organisation is their sole interest in profit, overlooking their impact on people and planet.
This implies that certain industries such as oil, gas and mining, pharmaceuticals, tobacco, gambling, fast-moving consumer goods, and fast fashion, to name a few, are in principle not a good fit for The Hive. On the other hand, businesses operating in industries such as the Environmental/Green sector, Renewable Energy, Climate Change, Impact investment, Healthcare, Education and Tech for Good are likely to be a good fit.
Within our ideal client organisation, we strive to work with transformative leaders who are influential decision makers, driven to make a positive impact in the world; they are visionary and open to championing collaboration, progression and positive change. They care about their people and believe in serving others. They act with integrity, empathy and honesty.
We believe enabling leaders to create a culture of openness and trust within their businesses is the fastest way to healthy, productive and genuinely innovative working cultures. Levelling up leaders through our facilitation and our training also means we can more effectively help businesses transform to deliver results that matter. This, in turn, will ensure that purpose-led businesses are contributing to creating a better world for future generations.
Although a level of judgement that goes beyond these criteria is often needed to evaluate each prospective client, and other factors may come into play, this blueprint has become a powerful tool in guiding our decisions over the past year. Increasingly, we are seeing that the organisations we are connecting with reflect and align with our values and are committed, whether explicitly or implicitly, to making a difference. For us this is key to building a portfolio of change.
1.1 – Activities and Outputs
2022 has seen us increasingly focus on training and coaching leaders within our client organisations at all levels, from senior executives to managers and team leaders. In 2022 we have worked with leaders within four different businesses to create clarity, purpose, direction and solutions, as well as building the business-wide consensus needed to support and accelerate initiatives and results.
Where we have provided training and/or coaching for leaders, we have often also supported a process of culture transformation by helping businesses define where they are, where they want to be, and reinvigorating teams' loyalty and drive to get there.
Finally, alongside leadership training and culture transformation, in 2022 we have continued to train members of individual teams, particularly sales teams, as well as contributing to forming future generations of sales leaders by delivering apprenticeships training in partnership with a large provider.
Overall, we have delivered nearly 1,000 hours of training and coaching to more than 300 leaders and team members across six different organisations, working nationally and internationally. Two of these programs are ongoing and will see 34 more leaders being trained and coached within the next 18 months.
Our bespoke services were closely tailored to our clients' needs. In 2022 we have strengthened our in-house research function which works to assess where each client organisation is at the beginning of a project, and what the true issues and challenges are for its stakeholders. This process has become key to ensuring our training and coaching is relevant and genuinely supports organisations in getting from where they are to where they want to be, with clarity and shared understanding of their internal and external landscape.
Using both our proprietary methodology and a range of established tools and models, key services to our clients in 2022 included:
Compassionate/transformational leadership training.
Values alignment, purpose/mission and momentum building workshops.
Culture training.
Storytelling workshops.
One-to-one and team coaching.
Insights training.
Sales training.
Sales apprenticeships programs.
As well as drawing on a range of established tools and models, our training and coaching solutions in 2022 centred around The Hive's proprietary methodology, namely:
The STORM Process™ – a tool to navigate complex stakeholder scenarios; clearly define difficult problems; develop an innovation mindset to find creative solutions; collaboratively assess and prioritise solutions; then implement them.
DRIVE™ – a sales model based on exploring and challenging our understanding of customers' value levers, building consensus, and ultimately supporting excellence in sales.
STARS Storytelling – a framework to discover and define value through the lens of the customers; shape, learn and communicate their stories; challenge their world; and build advocacy.
FIRE – a tool to manage teams by engaging them and ensuring team members hold each other accountable.
To deliver at scale, over the past year we have also more than doubled our team of handpicked associate trainers, coaches and facilitators from 6 to 13. Through a newly established onboarding process (see section 2.1.1), we have ensured that every associate that has joined our team shares our values and is comfortable deploying our flagship methodologies, while retaining his/her own individuality when delivering training or coaching.
The bespoke nature of our programs means outcomes will vary substantially from organisation to organisation. Alongside individual session feedback forms, anecdotal evidence from our clients, and intelligence from conversations with key stakeholders, we are increasingly using research to help us evaluate what we do and the impact that we are generating. In 2022 we have begun building a program evaluation service collecting data beyond participants' immediate reaction to the sessions to help us monitor the effectiveness of our services and start measuring their impact for individual participants as well as, more widely, for the organisation.  We have rolled out pilot evaluation surveys for two of our largest programs based on the Kirkpatrick Evaluation Model; these represent a starting point to grow the evaluation function of The Hive further within the next 3 to 5 years.
Alongside our client work, 2022 has seen the launch of our leadership podcast 'Beeline – lead the way' aimed at raising awareness of key issues currently faced by leaders and sharing inspiring stories of success.  As of March 2023, we have completed two series with audiences steadily growing. We are confident that this will continue to grow and we are currently looking into other ways of leveraging the podcast's reach and impact through greater marketing and PR activities.
1.2 – Outcomes
Below are four case studies telling the story of our intervention within different client organisations. Although they are not capturing the entire breadth of the impact of our services, we feel they exemplify well the nature and scale of the difference we have made for our clients in 2022.
1.2.1 – Embedding a new culture of openness and trust for a large UK healthcare provider
In 2022 we worked with a large healthcare provider in the UK looking to embed a new, healthy and open culture of trust. In response to the COVID-19 pandemic, leaders had adopted a command and control strategy. While this served them in the short-term, it became a barrier to progression and performance. They recognised they needed a sustainable leadership development model that decentralised decision-making and promoted strong levels of accountability.
Their aspiration was to ensure vulnerability would be practised extensively at all levels, underpinning a growth mindset rather than a fixed one, where leaders were allowed to make mistakes and not expected to know all the answers. This, in turn, was expected to strengthen accountability across the organisation, and foster confidence and genuine innovation from the ground up, as leaders felt they could trust their environment to support them as they changed the status quo for the better.
As part of the initial needs assessment, we worked closely with the Head of Organisational Development to understand their values and competencies framework, known as their Leadership Charter. We facilitated various candid discussions directly with the Head of Organisational Development and, later, with the wider stakeholder team around the extent to which these competencies were being exemplified by leaders in reality, and the impact this was having on their performance and culture. Our research team conducted in-depth interviews with a sample of 12 stakeholders, analysing and collating the results into a comprehensive research report to provide crucial insight and understanding into the issues and needs at play.
The research and training needs analysis highlighted a creeping blame culture which was stifling collective thinking and inclusion. Teams were working in silos rather than connecting. Leaders lacked the skills and/or impetus to handle difficult conversations, manage conflict, show vulnerability, hold people accountable and strategically lead rather than operationally manage.  In response, we designed a program to give people the tools, the space and the courage to lead with heart. We recognised that compassionate leadership, supported by robust transformational leadership development, would give the team what they needed to build trust and engagement throughout the organisation and bring the Leadership Charter to life.
As a result, The Hive devised a comprehensive multi-year program of compassionate and transformational leadership training and coaching based on two of our core methodologies (STORM™ and FIRE) and other proven leadership models and tools. The program targets senior leaders in a diverse healthcare organisation responsible for hospitals, surgeries, and prisons, where employees have been under great operational strain coming out of the COVID-19 pandemic. It is running in simultaneous cohorts of up to 12 leaders across 9 months. In 2022 we worked with 126 leaders, delivering more than 400 hours of training and coaching.
So far, leaders have reported a number of immediate changes within their working practice, both anecdotally and as captured by our pilot evaluation of the program. These included developing a range of shared practical tools and language to draw from, which created a common ground for discussion and action, and is contributing to closing the divide between senior and junior leaders.
Applying the highly practical techniques learned throughout the program has also allowed for immediate collaboration and interdepartmental innovation. Leaders have reported an improved understanding of their teams and differences in terms of values, working and communication style, which in turn significantly improved team engagement and collaboration.
On a personal level, the program has given leaders time and space to reflect away from the day to day pressures of their roles, and to connect with peers, resulting in closer working relationships with and mutual understanding among leaders across the business.
One year into the program, the wider outcomes for the business are gradually beginning to show. A culture of trust and open communication is gradually trickling down from senior leaders, with the question "how can I serve you better as a leader?" reportedly being asked more and more frequently.
Coaching has improved leaders' confidence and fostered a culture of vulnerability and growth mindset within the organisation, although commitment to this by all leaders is something the business is working on.
Crucially, there is evidence of improved collaboration and intra- and interdepartmental collaboration and innovation. As a result, teams are becoming more engaged, inspired, collaborative, and consistent. Senior leaders are more able to trust the insight coming from their teams 'on the ground' and devote time to tackle the real challenges facing their business.
1.2.2 – Re-establishing team dynamics and a clear strategic direction for a rapidly changing business
In 2021-2022 we supported the UK government's first approved COVID-19 travel testing provider to dramatically improve their team dynamics and pivot their strategy coming out of the pandemic.
The organisation was under immense operational pressure and strain. Operating under unprecedentedly difficult market conditions, the business was having to respond to a rapidly shifting landscape of Government rules and regulations, while scaling up quickly to meet demand for its services.
Senior leadership admitted adopting a "wartime" leadership style, where key decisions were made quickly from the top down and with very little consensus building within the rest of the team. Burnout was evident, team relationships had broken down and they were struggling to find clarity and direction. If the organisation were to continue to provide their vital services to the world, they needed to find a sustainable way to unite and inspire the team.
Moreover, in the wake of the world gradually re-opening up, it was also clear that the team needed to reflect on "what next?" for the business – a sign that a further transformation in its values, vision, mission and, ultimately, services was needed to ensure it could continue to exist and thrive.
The CEO asked The Hive for support. Initially, we met virtually with the CEO and a few key stakeholders to understand their challenges and training needs. Our research team then conducted further primary research, including 1:1 in-depth interviews and an employee survey, which revealed vital (previously unseen) insight, gave all team members a voice, and helped them open up about previously unspoken challenges about the organisation's working culture. Using this knowledge, we designed and delivered a strategic training and facilitation program across four months, involving every team. The final report from the research was shared with senior management and acted as a mirror casting a vivid, yet impartial image of where the organisation truly was.
The program involved Insights Discovery Profiling, a two day training workshop to bring everyone together to explore individual relationships, preferred communication styles and team dynamics. This acted as a much needed team building opportunity as well as being focussed on developing core competencies such as self-awareness, tolerance, trust and collaboration. We then delivered a series of bespoke workshops to define a vision and values that represented everyone's views and perspectives. We conducted a review of the feedback forms following each session, and spoke with the CEO and the client's external change consultant – directly after the program and again one month later – to evaluate the impact of the intervention. Feedback was that, with everyone now aligned in their approach and direction, the teams were able to confidently refine the strategy and move forward with a culture of open, honest communication. Reaffirming values and common goals addressed the disconnect between the team and senior leadership within the team. Team dynamics, competencies and team members' empathy started to improve, which gave leaders and managers time to create perspective, away from the day-to-day pressures, and to focus on creating a strategy that would continue to exemplify their commitment to care and excellence.
A year down the line, we know that the program has done more than help our client to manage change; it facilitated a true company transformation. The business was ultimately able to overcome the fall in demand for COVID-19 self-testing by re-inventing itself as a business that helps people maintain their health through at-home non-invasive testing, supporting a vision of preventative, proactive and personalised care, supplementing what is already available through the NHS (National Healthcare System).
1.2.3 – Realigning strategy and building momentum for a team within the training arm of a supranational organisation
Over the past year, The Hive has been supporting a team within the training arm of a supranational organisation to realign their strategy and reunite as a performing team that had been through a time of exhausting isolation, pressure, and uncertainty. This had generated burnout, a pervasive sense of frustration, a lack of ownership, and therefore little to no accountability towards decisions and initiatives.
As an initial training needs assessment, we spoke in depth with one of the leaders and another key stakeholder within the organisation to explore and understand the team's environment and most pressing challenges.  From this we understood that, to create lasting results, they needed a sustainable, financially robust business model that the team could get behind and be motivated by. We also factored in their need to develop competencies around managing complexity, anticipating obstacles, and working collaboratively with focus. The team needed immediate support so we moved quickly to design a bespoke intervention and create customised learning materials.
We then delivered a one-day workshop using STORM™, The Hive's flagship methodology, to tackle their specific challenges and competencies and align the personal and professional values of the team. We defined parameters, explored obstacles, optimised resources, discussed innovative solutions and agreed on a goal. We then worked backwards, defining milestones and specific projects and actions to achieve them.  We also delivered one-to-one coaching for a senior leader, supporting them in relating to their team, helping them sustain motivation and momentum to go through change.
From the feedback we gathered post-intervention, we found that the team left the workshop with a clear purpose and direction as well as a series of tangible, discrete projects which were meant to bring greater value to the audiences they serve.
When we reconvened with the senior leader of the team in August 2022, the team were struggling to move forward. Emergency projects out in the field, staff resignations and performance issues were challenging progress. We explored the emerging problems and needs with the leader. We identified that, to get results, it was going to be crucial to help the team gain renewed focus and momentum. In response, we designed and delivered a highly practical one-day 'Building Momentum' workshop for the team. This helped move each project forward with clear milestones and responsibility for individuals. This generated a sense of greater ownership and accountability, also contributing to team engagement and motivation.
1.2.4 – Supporting an international business through building a sales culture of delivering value
The Hive has a longstanding partnership with an international business that provides weather data solutions to help customers 'feed, fuel and protect our world', helping address issues such as food and energy security, transitioning to renewable sources of energy and, more generally, tackling the climate crisis by preparing businesses to deal with extreme weather events.
Over the course of 5 years we have delivered a comprehensive, integrated and evolving development program in close partnership with key stakeholders in the business; training and coaching over 120 employees across different teams to date.
The client came to us following an intense period of acquisitions of smaller businesses, with the awareness that it lacked a shared toolkit and language around sales across its teams. Alongside this, our client had also set itself a target to increase overall sales performance by 25% by 2025.
To inform program design, we began with a training needs analysis and research phase. This uncovered a lack of key competencies, as well as some (previously unknown) insights into issues such as complacency and low confidence, that were hindering performance. Our initial research gave us a deep understanding of the organisation and helped to gain stakeholder buy-in from the start. As this in-depth knowledge and understanding evolved over time, it contributed towards our lead trainer and coach being regarded, anecdotally, as 'an extension' of their business.
Our solution involved sales training using The Hive's proprietary methodology (DRIVE™) for the businesses' commercial teams, as well as leadership training for its commercial leaders.
A significant part of this ongoing development program has involved both one-to-one and team coaching through which we helped develop skills and competencies of everyone from junior team members to senior leaders.
One aspect that stands out is the ability of our coaches to challenge individuals. This enabled the business to overcome significant barriers to performance during the COVID-19 pandemic, including resistance to change, team disconnection, and the absence of clear and motivating processes. From feedback gathered after each session, we hear that the one-to-one leadership coaching has been invaluable in giving leaders the tools to course correct where needed, and the skills to keep everyone aligned and driving towards common goals. The commercially focussed one-to-one coaching has also helped individuals significantly enhance their sales performance and results.
Through DRIVE™ training, the commercial teams have not only adopted an effective and shared toolkit and language for sales, they have a shared mode; they have also learned to deliver value for their clients by adopting a diagnose mindset (from data, to insight, to action), thereby shifting their understanding of a problem, from operational to strategic. Commercial teams across different sectors have become much more comfortable dealing with different markets, not just their own vertical, and are getting increasingly used to 'cross-pollinating' and working to come up with the best, joined-up data solution for their clients. This has also been supported on a practical level by a restructuring of the business where sales teams are working geographically rather than vertically. This has delivered much better value for clients which is reflected in the size and number of deals closed. The company is now on track to meet its growth target for 2025; internally, this has been largely attributed to DRIVE™.
1.3 –  What remains to be achieved and how we are planning on doing this
Having reflected on what The Hive has achieved in terms of outcomes for its clients, there are a number of areas which we are looking to work on in the coming months, in particular:
1.3.1 – Continuing to connect with businesses who share our values
In 2022 our commitment to working with businesses that generate a positive impact on people, planet and profit, and with transformative leaders who recognise the importance of a culture of trust, has increasingly been guiding our choices.
Proactively looking for businesses that are aligned with The Hive in terms of values and purpose has marked a significant shift in our strategy and one which we are looking to continue pursuing in the future. In practice, this will also mean continuing to refine our lead generation qualifying parameters to help us connect with businesses that care about the triple bottom line.
At the same time, we are also aware of the importance of helping businesses who may not be completely aligned with our values, but who aspire to transform their way of working and their culture to reflect greater social and environmental consciousness.
1.3.2 – Increasing access to our services
Connecting with socially and environmentally minded businesses who are looking to go through transformation but may not have the financial capabilities to embark in that process is also something we aspire to achieve. This could include the creation of affordable, off the shelf training programs aimed at small businesses as well as establishing a small business support scheme which could be funded through The Hive's profits but also actively subsidised by existing clients if they chose to.
1.3.3 – Showing the impact of our training more systematically
Our evaluation work for some of the larger clients we are currently working with represents a starting point to growing a wider monitoring and evaluation function; this will help us to more systematically gauge the nature and the extent of the impact of the programs we design and deliver for our clients. This could also involve the creation of an ROI calculator for leadership training.
1.3.4 – Working to be increasingly recognised as a key voice within the space of transformational and compassionate leadership
In order to attract like minded businesses who care about the triple bottom line, it is important that The Hive's reputation as a voice in the space of transformational and compassionate leadership is nurtured and grown. This will involve continuing to focus on growing and promoting The Hive's 'Beeline – lead the way' Podcast series, as well as our social media and traditional media activity.
2 – Staff/Workplace
At The Hive a 'healthy working culture' is one of the top 5 key topics in our Environment Social Governance (ESG) Strategy and our Materiality Assessment. We are all encouraged to work on a flexible basis; allowing us to take ownership of our working day, so that we can be efficient, effective and productive as individuals and as a team. We are accountable for our own health and wellbeing and respect each other's differences without judgement.
The nature of our work means that we are acutely aware of the issues that many working environments are currently facing, such as burnout, quiet quitting, apathy, siloed working, loneliness, and a lack of motivation. Because of this, we have worked hard through our communication and our HR policies and procedures to ensure that we have a robust, consistent, and achievable process in place to support all members of the team to feel valued, safe, happy, heard, and have the opportunities to grow, learn, share, and take responsibility for our own and each other's well being.
2.1 – Activities and Outputs
As a team we are committed to recognising the impact we have on each other and also on any external relationships. Our shared experiences have informed the content of our policies and procedures to reflect those learnings. We aspire to do as we would be done by, and walk a mile in each other's shoes.
This means we have thought carefully about the impact we make from the moment we connect with anyone from outside the organisation, to ensure that person's experience of us is positive, fair, kind, and meaningful.
The outputs below are a culmination of those learnings and our commitment to delivering a positive impact:
2.1.1 – Onboarding and Recruitment
In October 2022 we trialled an onboarding process which helps new recruits through the first week of work with clear instructions of where, why, what and who. Thus feeling valued, supported and part of the mechanics of the organisation from the moment they begin their story with us. Since then, feedback from new members of the team has been extremely positive and has validated the success of the process.
In March 2023 we agreed a new recruitment process that acknowledges every application and informs all applicants of their progress throughout the process, at whatever stage they reach, so that they feel seen, heard and respected. This helps to grow our message and reputation externally as somewhere that people would genuinely want to work.
2.1.2 – Staff Handbook and Key Policies
In March 2022 we operationalised our values as a team. This has helped us to embed our values into our everyday operations and behaviours. Ensuring that they are more than a list of words that gather dust; they are part of our day to day decision-making and regularly inform our actions.
In September 2022 we created a Communication policy, which we have found extremely valuable, particularly in a remote/hybrid working environment. We have found that when using multiple platforms and devices, boundaries must be set to allow us to feel on top of the many layers and streams of information that are constantly evolving. This policy outlines best practice when communicating both internally and externally and contains clear directives to enable consistent language, trust, autonomy, accountability, and responsibility. We understand and accept that we all have differences and preferences in the way we communicate and so this policy must be continually reviewed to reflect the needs of the growing and/or changing team.
In March 2023 we reworked and consolidated our Employee Handbook, HR policies and Code of Ethics . This Handbook now represents a fully comprehensive single point of truth about the organisation, employee rights, and expectations.
This handbook is vital to supporting the onboarding process and ensuring that everything we do is compliant, consistent, and supported. Within the Handbook we outline our work etiquette, which aligns with our values and our code of ethics to ensure there is a consistent message that threads through all our internal and external messaging and branding. We believe that consistency and transparency is paramount when providing a psychologically safe working environment. These documents help us prioritise and help us to regularly return to our purpose and values, to keep us grounded in our mission to create a positive impact.
2.1.3 – Employee well being
As employees of The Hive, we have flexibility to manage our own timetable within our contracted working hours and days. This nurtures trust and accountability and means we can address any unexpected challenges at home without worry that we will be penalised. We have the option to apply for unpaid time off if needed by doing so in writing to our line manager, but we can also take paid time off if we feel unable to work productively for valid reasons. If we need to clear our heads, get some perspective, or fresh air, we are able to take time out of our day to ensure we are in the best possible mind-set for the job in hand.  As employees, we can express our concerns openly and give feedback without threat of losing favour or being chastised.
We operate a bi-annual appraisal strategy and fortnightly check-ins with our line manager offering a clearly defined trajectory. We have found that when operations get busy, 1:1 check-ins and appraisals are often the first casualty. So we strive to prioritise these in order to illustrate the importance of connectivity and communication.
We have established Wellbeing/Mental Health Days, which aim to dissipate any shame or stigma associated with Mental Health and the issues we all experience over time, thus acknowledging the need for rest and time out.
Due to the rises in energy bills over the last few months, all employees have now been offered a payment of £900 per year for 2022 and 2023 to supplement our energy bills. Anecdotally, we know that this has made a substantial difference to employees' health, wellbeing and anxiety levels due to the cost of living crisis.
2.1.4 – Team cohesion
We use Insights Discovery Training to allow us to understand our teammates on a deeper level, using a colour wheel to indicate their characteristic tendencies, enabling deep empathy, care, and understanding amongst our team members which supports better team dynamics.
Our HALO system was also created in March 2022 and helps us to stay grounded when situations heighten: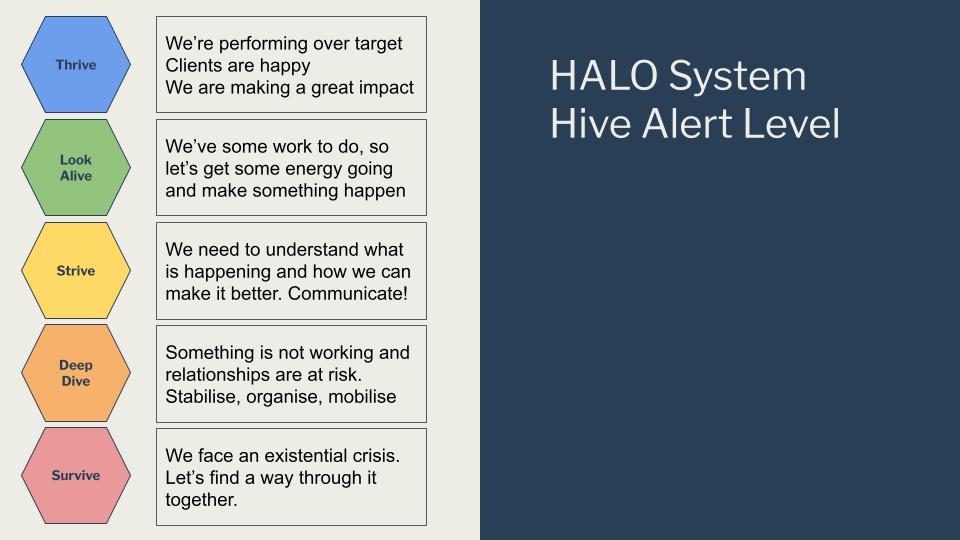 The HALO system is designed to keep us aligned with our values and our commitment to a psychologically safe working environment. We acknowledge that each of us react to information and situations differently. High stake scenarios can be triggering, therefore, we have made a commitment to each other to be empathetic, aware, and solution focussed.
We recognise the need for community and face to face connectivity. It is one of our basic needs. Because of this, the Hive has committed to organising 6-Monthly Residential Get-togethers where we can strategise, relax and socialise together. In 2022, The Hive organised 2 residentials – one in the UK and one in Italy.
2.2 – Outcomes
These activities and outputs have contributed to a more effective and efficient operation, internally and externally, gaining a reputation for excellence and accountability with our clients.
They have enabled us, as a team, to feel proud of working for The Hive, valued and supported by each other and also by our external stakeholders. This has been evident from the feedback received and the growth in numbers of our external associates. We started the year with 6 associates and ended the year with 13, thus evidencing our reputation as offering robust and ethically sound procurement procedures.
Through team building and training activities such as Insights Discovery, we have been able to identify the individual needs of the team and acknowledge some of the areas in our working life that could potentially cause unhealthy behaviours or emotions. We are now acutely aware of the diversity of our team,  we are non-judgemental and empathetic of our diversity, and have made a promise to support each other through challenging situations.
When the stakes are high, our HALO system helps us recognise where we are and where we want to be in any given situation. This system outlines 5 states of alert: Thrive, Look Alive, Strive, Deep Dive and Survive. With this system, we have been able to escalate the necessity to be more aware, to recognise our own behaviour and that of our teams, in order to maintain a supportive, calm, focussed environment whilst efficiently finding solutions. We have been able to hold each other accountable safely, understand who is best placed to make decisions, translate behaviours, and work our way around things without judgement, blame, and misunderstandings.  We have been able to trust each other to do the best we can with what we've got at the time. Crucially, it has also helped us to de-escalate high stakes situations once things are dealt with. Instead of operating for weeks on end in a state of 'Survive', we can wrap it up in 10 minutes, take a deep breath, and go back to 'Look Alive'.
During times where we have been emotionally, physically or mentally challenged we have increasingly encouraged open communication where we are able to express our needs without judgement. Our mental health day allowance – which was introduced in October 2022 – ensures we can hold ourselves accountable for our own health and wellbeing, and take responsibility for making sure we are in a state of mind that will support efficient, effective and productive outputs.
Our regular fortnightly check-ins and appraisals – which aim to assess the 'state of mind' of the team and put in place evidenced targets and progressive goals – have helped us continue to feel challenged, empowered and motivated.
Community is a vital human need and one which is easy to lose in a hybrid working environment. Priority has been given to addressing that need wherever possible, and we have increasingly encouraged each other to find that connectivity inside and outside our working day. Our 6 monthly face to face residentials have played an important role in this.
2.3 – What remains to be achieved and how we are planning on doing this 
We still have work to do when it comes to ensuring that everyone is working to their full potential and that all employees are well supported and covered in terms of financial and mental wellbeing. Our plans to ensure this include:
Continuing our work towards becoming a B Corp by improving our governance in accordance with the B Corp's 5 impact areas, which are: Governance; Workers; Community; Environment; and Customers. Our aim is to achieve this by January 2025.
Investing in a Health Insurance Scheme for all our employees, which will alleviate stress and anxiety around loss of income and inaccessibility to timely health care. We aim to achieve this by May 2024.
Creating a growth and a succession plan in order to safeguard the future of the business and address some of the risks we have identified as a team. We aim to achieve this by January 2024.
Other less strategic areas of development we would like to address by the end of 2023 include:
Finding more ways to connect as a team, whether that is virtually or face to face, creating more opportunities to share knowledge but also to play, create, and connect on a more human level.
An Employee Assistance Program (EAP) where we are able to speak to and ask advice from a neutral party.
Creating an internal coaching program whereby we, as employees, benefit from the expertise of our associates who work for us on a freelance basis.
Placing a deadline on achieving these aims is important in order to hold ourselves accountable, and ensure we are making the impact we aspire to. It is vital to us that our aspirations are achievable and measurable, and that we are able to sustain the momentum to continue our impact growth.
3 – Community
At The Hive we all work remotely from home which means there is no 'shared' community for us as a team, other than online. Therefore we have made a commitment to nurture and serve our own individual communities in whatever way we are able.
3.1 – Activities and outputs
Some of the activities we contribute to as individuals include: supporting a neighbourhood committee; helping to raise issues and plan and run seasonal events; acting as a trustee of a charity that helps empower people who have been through a life-changing trauma; hosting a family of Ukrainian refugees; supporting a friend to relocate to Italy; volunteering at a local church; offering pro-bono nutrition consultations and health coaching, to help people get their health back on track after being unwell and/or to set themselves up for better health in the future; and business advice for community projects and charitable organisations with on the spot coaching and support. All of these activities, although small, contribute to our commitment to making the world a better place and to making a positive impact.
As an organisation, The Hive regularly supports a number of charities and not-for-profit organisations. In 2022, The Hive made a one-off donation to Romanian NGO Casa Ioana whose purpose is acutely aligned with our values: Positive Impact, Empathy, Courage, and Excellence. The charity works with women and children who are experiencing domestic violence and family homelessness, and is committed to educating the public on these issues and fostering community engagement. They offer a safe refuge whilst teaching both soft and hard skills to enable the families and individuals to rebuild their lives and become self-sufficient, independent, and resourceful. Casa Ioana celebrated 25 years of life-changing work in 2020. In that time, they raised and invested more than €2,000,000 in giving new beginnings to 5,394 single adults, 6,015 families, and 7,601 children. Year-on-year, more than 85% of their adult residents leave Casa Ioana with children in formal education, women in formal employment, and single women and families living in privately rented accommodation.
The Hive also regularly supports LSC Capoeira Herança Italia, a not-for-profit amateur sports organisation which promotes the Brazilian martial art of Capoeira in Parma, Italy. The charity works with the general public but also, crucially, within schools supporting Parma council in increasing access to sports and a healthy and active lifestyle amongst young people. In 2022 The Hive contributed to LSC Capoeira Herança Italia's marketing budget as well as funding part of its annual grading event.
3.2 – Outcomes. 
Due to the voluntary and community work we do as individuals and as a business, we are making a positive impact on other people's lives both directly and indirectly. Our hope is that every action, however small, has a reaction and encourages others to donate their time to help others wherever possible. We like to lead by example in practising curiosity and open-mindedness which supports inclusivity and reduces bias.
3.3 – What remains to be achieved and how we are planning on doing this.
We are working towards creating a Corporate Social Responsibility strategy which we are aiming to launch at the beginning of 2024. This strategy will incorporate and scale our current relationship with Casa Ioana by contributing practically, as well as financially, to the rehabilitation of their residents.
As part of this new CSR strategy we are hoping to create a community business support scheme, offering subsidised or free Team Cohesion and Anti-Toxic Work Environment workshops to businesses and charities who we feel could be making a bigger impact, or who are in need of guidance to propel them forward and enable them to make the impact they desire.
4 – Environment 
At the Hive we pride ourselves on our commitment to making the world a better place for future generations. This includes doing our best to ensure our environmental impact is kept to a minimum, for any given level of service delivery.
On an individual level, The Hive asks all employees to adhere to our Environmentally Friendly Policy which sets out guidelines for environmentally friendly practices and behaviours recommended during working hours, alongside a list of eco-friendly suppliers for stationery, cleaning products, and toiletries. As part of our appraisal process we also ask every employee to make a commitment to specific actions around recycling and reduced energy consumption, for which progress is discussed and assessed during every appraisal.
At a collective business level, our commitment to the environment is reflected in benchmarking our carbon footprint and tracking it going forward. This is key to ensure we are monitoring our environmental footprint, we are aware of its drivers, and we are able to make decisions that affect it (see 4.1, Table 1 below).
4.1 – The Hive's Carbon Footprint in 2022*
In 2022, our estimated overall carbon footprint amounted to 14.43 Tonnes of CO2. This is only slightly higher than the average annual carbon footprint of an adult in the UK (12 Tonnes of Carbon Dioxide Equivalent a year) .
Being a small business delivering training through a team of full time employees and associates who are mostly working remotely means we do not own or rent premises and we do not regularly commute to work. Our carbon footprint from premises in 2022 – estimated by accounting for 6 full-time members of staff working from home – is generating a small share of our overall emissions (just under 20%).
Table 1
| | |
| --- | --- |
| Emissions source |       Carbon Dioxide (CO2 , Tonnes) |
| Building |       3.00 |
| Flights |       10.34 |
| Car trips and Taxis |       1.03 |
| Public Transport |       0.06 |
| Total CO2 emissions in 2022 |       14.43 |
Although flights to and from client sites accounted for the largest share in our carbon emissions in 2022 (79%), our hybrid model of training delivery, part online and part face-to-face, developed during the pandemic has helped keep our impact from travel in check. In 2022, nearly 90% of our training sessions were delivered online compared to a little over 10% delivered face-to-face. This means that our environmental impact from travel is likely to have been substantially lower compared to a business model where the vast majority of our services are delivered face-to-face.
4.2 – What remains to be achieved and how we are planning on doing this 
A recent report by the British Business Bank has shown that small and medium enterprises are responsible for 47% of total UK business emissions. This suggests that every business, regardless of its size, should take responsibility for its own environmental footprint and take adequate steps to address it. In order to help us achieve this, we plan to work on a number of fronts within the next 3 to 5 years, including:
4.2.1 – Systematically measuring and tracking our environmental impact 
At The Hive, our promise to the environment starts by committing to measure and track our environmental impact as accurately as possible on a yearly basis. We are aware that our 2022 calculations are just a starting point, and we look forward to investing more resources into future accuracy. This may mean partnering with specialist organisations/consults and/or seeking expert advice on how to refine our estimates and ensure they are robust.
Our aim is then to actively review this data and use it to inform our actions aimed at reducing our footprint. This year's estimates, for instance, have shown that flights to and from client sites are by far the largest driver of our carbon footprint which, in turn, is likely to have implications for the travel choices we make in the future as a business. It also suggests that a strategy to curb our emissions as a business should take into account how we deploy associate trainers and coaches based on their geography as well as suitability factors.
4.2.2 – Actively working to curb/compensate for our emissions
There are a number of ways in which, as a business, The Hive can increase its sustainability by further curbing its emissions and/or compensating for them. These include:
Strengthening the commitment of individual team members to reduce their own emissions and extending this to associates. This is key as the team works remotely.
Strengthening our commitment to using recycled materials in our training, particularly with post-it notes.
Carbon offsetting with a 'Hivey' partner.
Adding in a small cost to our training packages so that we can offset emissions generated while deploying a program (e.g. planting a tree for every day we deliver).
Working with charities to support their environmental work with our profits.
Offering our clients the opportunity to pay into a scheme that we can use to support charities that work in the environmental sector.
4.3 – Stakeholder commitment 
Our commitment to environmental sustainability should be extended to clients, suppliers, and contractors we work with. In order to achieve this, we will focus on:
Including clauses in our contracts that more explicitly bind clients to our environmental parameters and expectations.
Ensuring that Associates commit to reducing their emissions related to any work they undertake for The Hive and are given guidelines and support from The Hive on how to do that.
Where possible, selecting environmentally conscious venues for the training we deliver.
Appendix 1: The Hive's Carbon Footprint in 2022
In order to calculate our carbon footprint between 01/01/2022 and 31/12/2022 we used the Carbon Footprint Calculator for Small Businesses. The estimate was based on the following assumptions:
Carbon Footprint is defined as the amount of carbon dioxide (CO2) produced by The Hive directly, such as through premises and travel (Scope 1 emissions) and indirectly, created by the energy that the business buys (Scope 2 emissions); it does not take into account emissions generated by clients using our services, or suppliers producing products that The Hive uses (Scope 3 emissions).
The Hive is a business based in the UK.
6 full-time employees, all working from home 100% of their time; an approximate estimate of the emissions for the home heating and electricity has been included in the calculation. Associates' work from home was not considered for this part of the calculation.
Flights are economy class and emissions have been multiplied by DEFRA's recommended radiative forcing factor of 1.891 which accounts for carbon emissions at high altitude having an increased effect on global warming.
Car journey emissions are calculated based on an EU average petrol car.
Public transport emissions include both national and international train journeys which were kept distinct when calculating total public transport emissions due to different multiplying factors.
Please note: these calculations are part of an initial approach to benchmarking our environmental impact, and have not been formally checked and validated by The Carbon Footprint.