Build Unity with Team Purpose
A 3 Month Program to Develop Your Leadership, Management, and Team Culture
Build a unified and joined-up team culture, with a shared sense of purpose and direction, improved retention, reduced burnout, and higher productivity.
This program delivers an intensive training intervention for organisations whose teams lack alignment, a shared purpose, and direction. It serves as a catalyst, energising your team and unlocking the power of alignment to achieve extraordinary outcomes.
This program is designed for businesses who are eager to achieve extraordinary outcomes, but their teams seem rudderless, lacking alignment and a shared purpose, struggling with the challenges posed by today's volatile, uncertain, chaotic, and ambiguous world. This is ideal for leaders who seek to foster a more joined-up team culture aligned with a shared purpose and direction, through culture-building activities that address real, VUCA world business challenges.
Our program is built to support senior leadership teams, and their management levels, delivering an intensive training intervention tailored for teams that lack alignment and shared purpose. By re-establishing buy-in for your values and purpose, the program realigns everyone on a common journey, fostering a profound understanding of their collective purpose with everyone pulling in the same direction.
Through immersive workshops and ongoing coaching, we equip teams with the essential tools required to successfully pursue goals with a shared sense of purpose and direction. Participants will learn our patented STORM Process™ framework to master a shared approach for solving complex problems as a team, with a shared skill set and common language, cultivating a collaborative culture, and unlocking the power of alignment.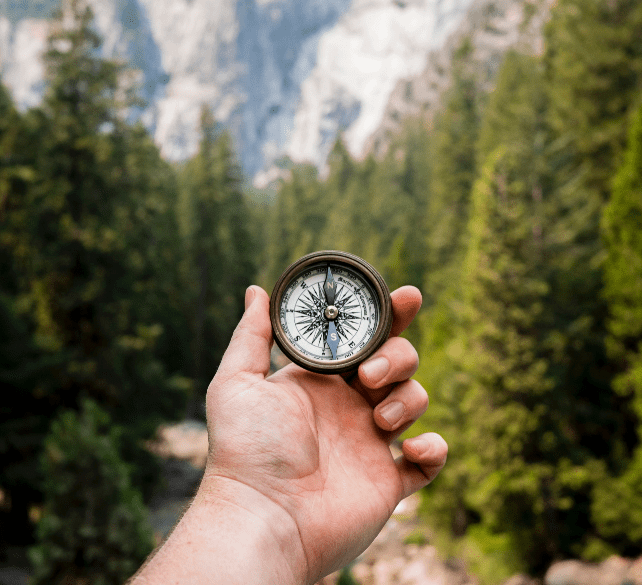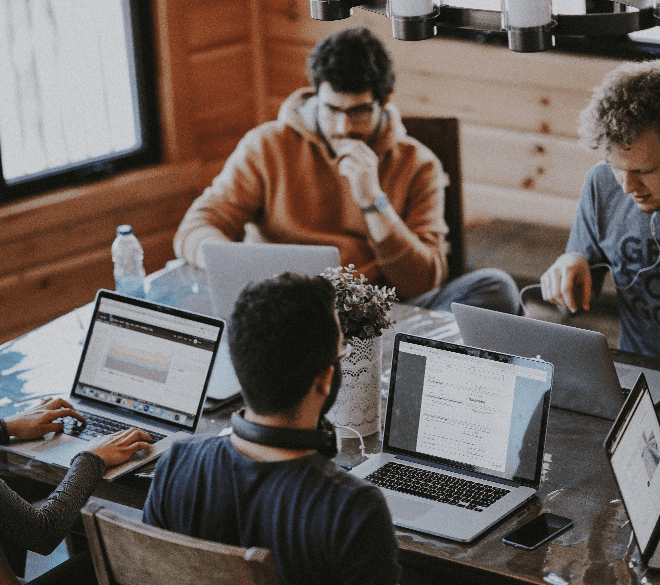 What does this program do?
This program revitalises teams, enabling them to collaborate effectively and reclaim their sense of direction. It addresses entrenched team behaviours and resolves situations where work feels aimless. The program serves as a powerful reminder of the importance of each team member and the collective impact they can have.
The Team Purpose program helps you to:
Build a cohesive team based around a shared sense of purpose and direction.
Get genuine team buy-in for organisational culture change.
Create a more positive, inclusive, and productive workplace.
Foster a cross-departmental, collaborative team culture.
Enhance employee engagement and motivation.
Improve consistency in decision-making.
Embed shared problem-solving capabilities with common tools and language.
By recentering teams on their path, it reignites motivation, commitment, and a shared sense of purpose, fostering an adaptable, collaborative culture, using a powerful, proven, shared framework – The Hive's patented STORM Process™ – to solve complex problems as a stronger, more cohesive team.
What problems does this program fix?
The Team Purpose program address a range of organisational pain points, and fix the following problems:
Lack of collaboration and unity within-and-across teams.
Burnout is a real threat, or a present issue in the organisation.
Disengagement by disillusioned team members.
High employee turnover causing recruitment challenges.
Reduced productivity, low morale, and a lack of innovation.
Accidental, or undefined, organisational culture.
Rudderless teams facing volatile, uncertain, complex, or ambiguous challenges.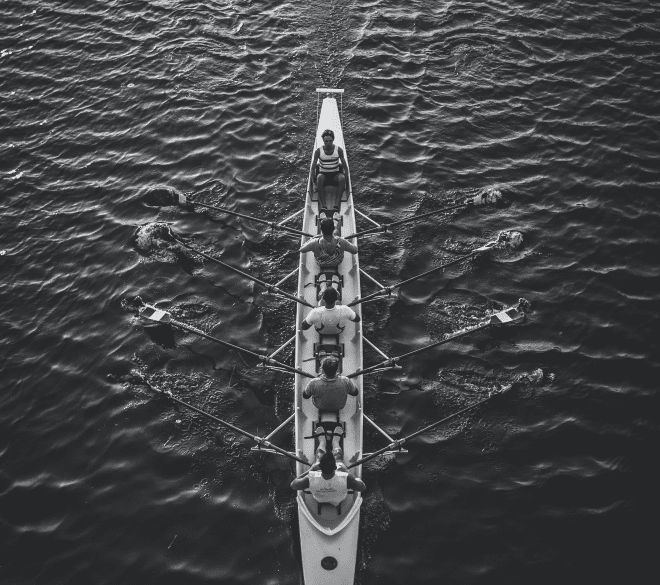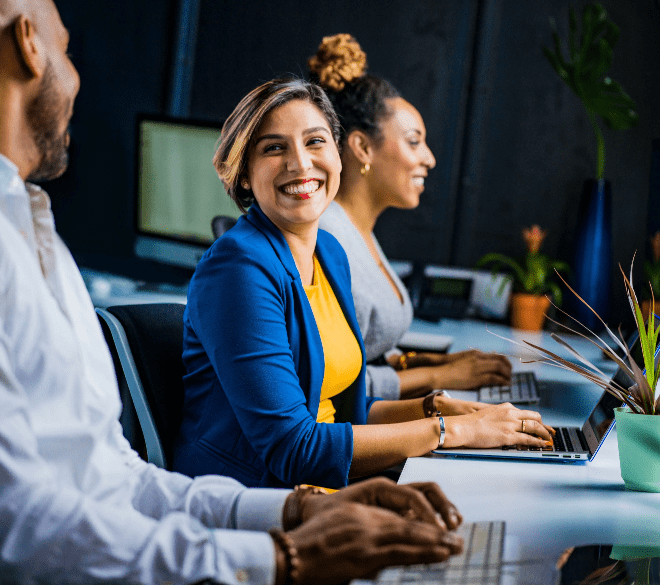 What are the program objectives?
The objectives of the Team Purpose program are to:
Realign teams around the organisational purpose and values.
Foster a shared view of, agreement on, and commitment to the team's purpose.
Equip teams with the necessary tools to successfully achieve a shared purpose.
Address and overcome challenges and behaviours hindering team alignment.
Reignite team motivation, commitment, and collaboration.
Develop a shared mindset and language within the team.
Build a cohesive team based around a shared sense of purpose and direction.
What are the beneficial outcomes?
By the end of the program, you will have:
Enhanced team alignment and collaboration.
Renewed buy-in and commitment to organisational purpose and values.
Improved productivity and performance.
Increased employee engagement and satisfaction.
Reduced burnout, and increased retention.
Cultivated a purpose-led culture.
A shared mindset and common language for effective communication.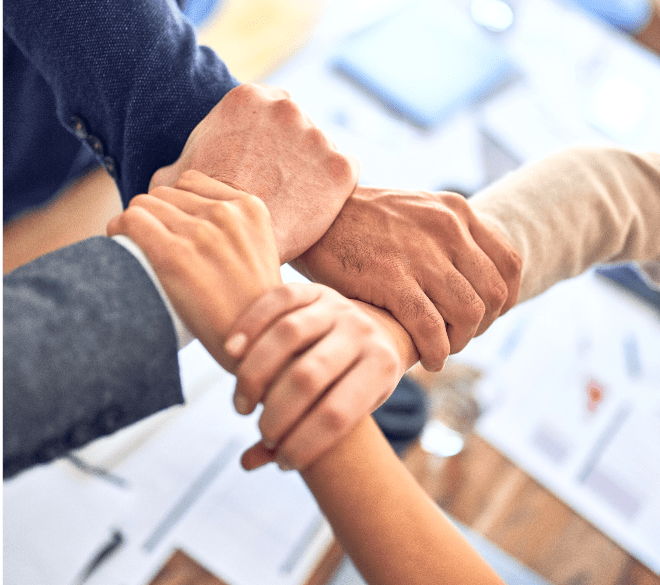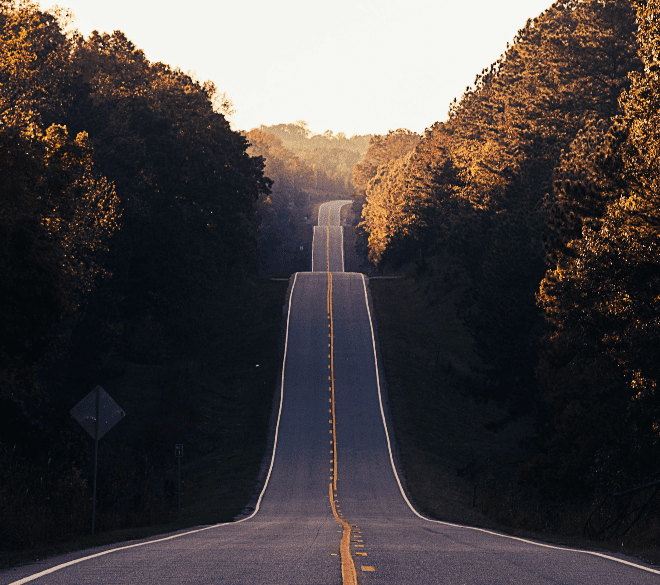 What can you expect from the program?
Participants can expect a transformational journey, tailored to address the specific challenges and behaviours faced by each team, to realign and equip them with a shared set of tools and a common language for collaborative success. It will reignite their passion for the organisation's purpose, through a combination of immersive workshops, engaging facilitation, practical exercises, ongoing coaching, and insightful discussions delivered by expert trainers.
Teams will learn to thrive in the face of adversity, learning skills and techniques to overcome challenges collaboratively, with a shared sense of purpose, using a powerful, proven, shared framework – The Hive's patented STORM Process™ – to solve complex problems as a team, with a shared skill set and common language.
Program delivery and modality
The Team Purpose program typically spans 14 weeks, incorporating various components to ensure a comprehensive and impactful learning experience. The delivery model is designed to accommodate both online and face-to-face interactions, providing flexibility and accessibility for participants. Here is an overview of the typical program delivery:
The program begins with in-depth, qualitative research involving interviews with team leaders and team members to gain insights. We identify and target specific challenges and pain points faced by the team, building an understanding of the desired outcomes. The research phase, including interviews, analysis, and reporting, spans approximately 4-5 days per participating team.
After the discovery stage, participants engage in a two-day intensive workshop. This workshop serves as a catalyst for learning, collaboration, and skill development. Through interactive activities, discussions, and exercises, participants delve into the principles and practices of collaborative problem-solving and cultural transformation.
Following the initial workshop, participants receive ongoing coaching and support to reinforce learning and implementation. This coaching can take various forms, including both remote and in-person sessions, to accommodate the specific needs and preferences of the participants and organisation. Our experienced coaches provide guidance, feedback, and personalised support to ensure the application of new skills and sustain behavioural change.
Embedding a collaborative culture throughout your organisation unlocks the power of alignment to achieve inspirational results, driving greater ROI and creating a sustainable competitive advantage. To achieve this cross-departmental, organisation-wide culture shift, we spend two days with senior and team leaders, aligning leadership and team mindsets with shared tools and a common language. This aligns practices, ensuring that these crucial elements become part of your team's skills, culture, and vocabulary.
At the conclusion of the program, participants come together for a one-day wrap-up workshop to officially inaugurate your collaborative culture. This workshop provides an opportunity to reflect on the progress made, share insights and challenges, and solidify the learning outcomes. Participants engage in collaborative exercises and discussions to further embed the newly acquired skills and strategies into their day-to-day work.
Our programs are designed for cohorts of up to 12 participants, fostering a supportive and collaborative learning environment. Participants benefit from shared experiences, peer feedback, and the opportunity to build a network of like-minded professionals who can continue to support one another beyond the program.
The program is highly adaptable and can be tailored to the specific needs and challenges of your organisation. We understand that every organisation is unique, and our approach allows us to customise the content, exercises, and coaching to align with your culture, values, and desired outcomes. Additionally, we can run multiple cohorts in parallel to scale the program across larger teams within your organisation.
Our program delivery model combines the best of both online and face-to-face learning experiences, ensuring maximum engagement, interaction, and impact. We are committed to providing a transformative and enjoyable journey for participants, empowering them to drive cultural change and achieve remarkable outcomes.
What made us create this program?
Employees (particularly those from younger generations) are reassessing their priorities, placing increasing importance on well-being, mental health, purposeful work, and alignment between business and their own values. – Deloitte, 'Global Gen Z and Millennials Survey 2022'.
An analysis of 1.4 million employee reviews on Glassdoor showed that the feeling of being respected at work is 17.9 times more powerful as a predictor of culture score. – MIT Sloan Management Review, '10 Things your Corporate Culture needs to get right', September 2021.
Toxic culture is responsible for poor mental and physical health outcomes for workers, disengagement, badmouthing, and attrition. Toxic corporate culture was 10 times more likely to predict attrition than the average predictive factor. – MIT Sloan Review, 'Toxic Culture is Driving The Great Resignation', January 2022.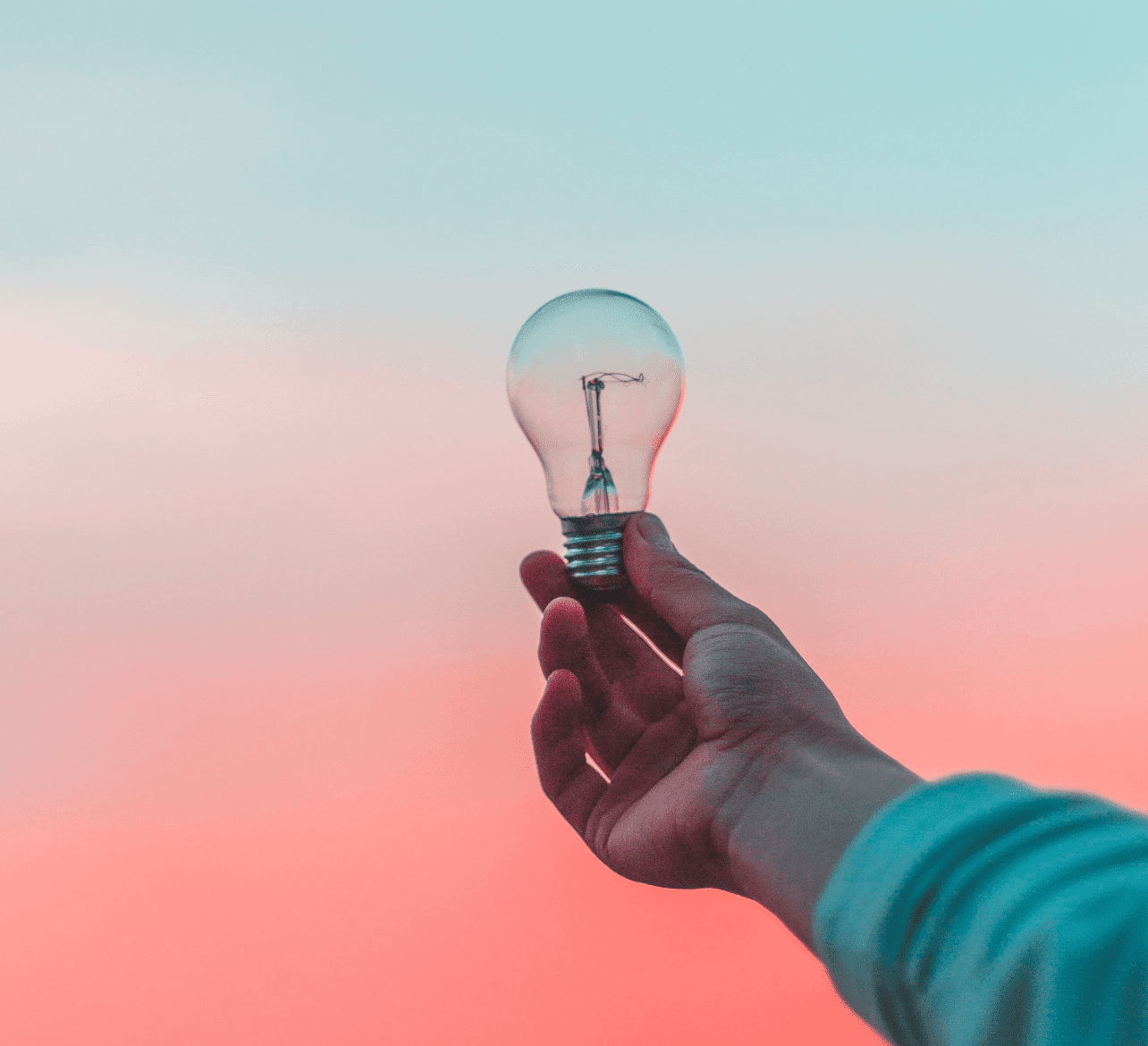 We recognised the growing importance of purpose and values in the workplace, the impact of respect and well-being on culture, and the negative consequences of a toxic culture. We saw Heads of People and Culture, HR Directors, Heads of Learning and Development, CEOs, COOs, and other senior leaders struggling to bring about change.
So we designed this transformative training intervention for teams that lack alignment and shared purpose. This is an ideal culture change program to embed a purpose-driven culture that addresses modern workplace concerns. It creates a positive work environment that attracts and retains talent, while fostering employee well-being and creating a collaborative culture around a shared sense of purpose and direction.
These are some of the challenges facing business leaders in a VUCA world, which this workshop helps you to overcome:
Burnout
Addressing the pervasive burnout culture that hampers productivity and drains your team's energy and motivation.
Retention
Overcoming the revolving door syndrome by creating an environment that retains top talent and fosters loyalty.
VUCA Environments
Navigating the challenges of the volatile, uncertain, chaotic, and ambiguous world to build resilience and adaptability.
Lack of Collaboration
Overcoming silos and enhancing cross-functional collaboration to drive collective success.
Disengagement
Tackling the lack of enthusiasm and commitment that hinders collaboration and stifles innovation.
Reduced Productivity
Addressing the productivity gaps caused by misalignment, lack of purpose, and ineffective collaboration.
Accidental or Undefined Culture
Uncovering and shaping the hidden culture that influences behaviours and impacts performance.
Case Study
Their situation
A relatively new disrupter in the medical-technology sector was struggling with rapid team growth, where new members of the team and their 'originals' were all working hard, but everyone seemed to have their own idea of what should be happening and when.
They had tried bringing everyone together to overcome the disconnect between the vision of the leadership team and the many visions present among their workforce. The teams seemed rudderless, despite cooperating, and they risked losing major contracts.
Their new COO recognised the need for a culture shift to accommodate their rapid growth, and knew about The Hive Change Consultancy from their previous role. They recognised the risk of burnout, and the lack of alignment between teams and leaders.
Our solution
We put together a culture change program to build a unified and joined-up team culture, to give their entire organisation an in-depth understanding of their place in the organisation's vision, and to create a shared sense of purpose, while helping them to find their direction, and addressing a very real threat of burnout, aimed at all leadership levels.
The result
After our training intervention, their entire workforce benefited from being truly aligned, with everyone adopting a shared sense of purpose and direction, and working together cohesively instead of working independently – real collective intelligence was unlocked.
The program gave their team a shared framework to solve complex problems, with a shared set of tools and vocabulary, and a culture that fosters a sense of belonging. No more risk of burnout, with everyone on the same wavelength and chasing common goals.